Business Overview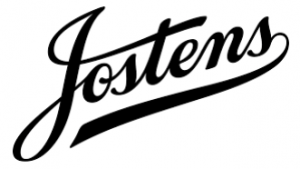 The year was 1897. It was then that a jewelry repairman by the name of Otto Jostens started helping high school students preserve the memory of their most important moments. Thus began the inception of cultural icon, Jostens.
Since then, generation after generation has celebrated life's milestone moments with Jostens. From a preschooler's graduation cap, to a high school student's class ring and yearbook, to a pro athlete's championship ring, the stories behind these major occasions have come to define us all.
Above and beyond breadth of customized and personalized products, Jostens also has a longstanding commitment to improving the overall culture and climate of the schools they serve. For over 25 years, Renaissance Education has helped school administrators, faculty, and students build positive climate and culture through programs like Commitment to Graduate, The Harbor video series, and Jostens National Renaissance Conference – the nation's largest convening of school and student leaders to share best practices and celebrate the impact of positive school climate and culture.
Business Challenge
With recent changes in company ownership, Jostens was looking for a solution to help extract their data from Newell Brands' data center facility. Jostens has been a household name for many years, and the company needed a provider that could keep up with their historic success.
They were looking for a company that was well-known and trusted by others. That is when they found LightEdge. Platinum Equity had recommended LightEdge as a dependable provider and our Power Cloud offering as a reliable solution for guaranteed success.
Options Considered
Jostens vetted multiple vendors. They were looking to move quickly and find a solution within 9 months. Because of Platinum Equity's recommendation and LightEdge's extensive experience with IBM i Series, LightEdge was the best fit for Jostens.
Solutions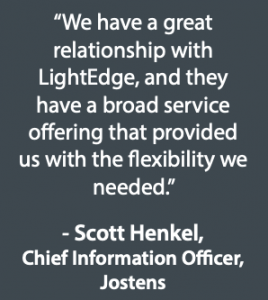 "We have a great relationship with LightEdge, and they have a broad service offering that provided us with the flexibility we needed," said Scott Henkel, Chief Information Officer. Jostens was looking to outsource the management of their IBM i Series System, and LightEdge's IBM Power engineers were able to seamlessly take over. "You could tell that LightEdge's team knew the system and the technology well," said Henkel.
Today, Jostens is running in LightEdge Power Cloud at LightEdge's ISO 27001, ISO 20000-1, SOC 1 Type 2, SOC 2 Type 2, SOC 3, HIPAA/HITRUST, and PCI-compliant data center facility
Service Overview - Power Cloud:
Was looking to move quickly
Started AS/400 Migration to LightEdge Power Cloud
Jostens selected LightEdge's Power Cloud for the following reasons:

Broad service offerings
Good relationship with the company
Flexibility
Bandwidth
Expertise